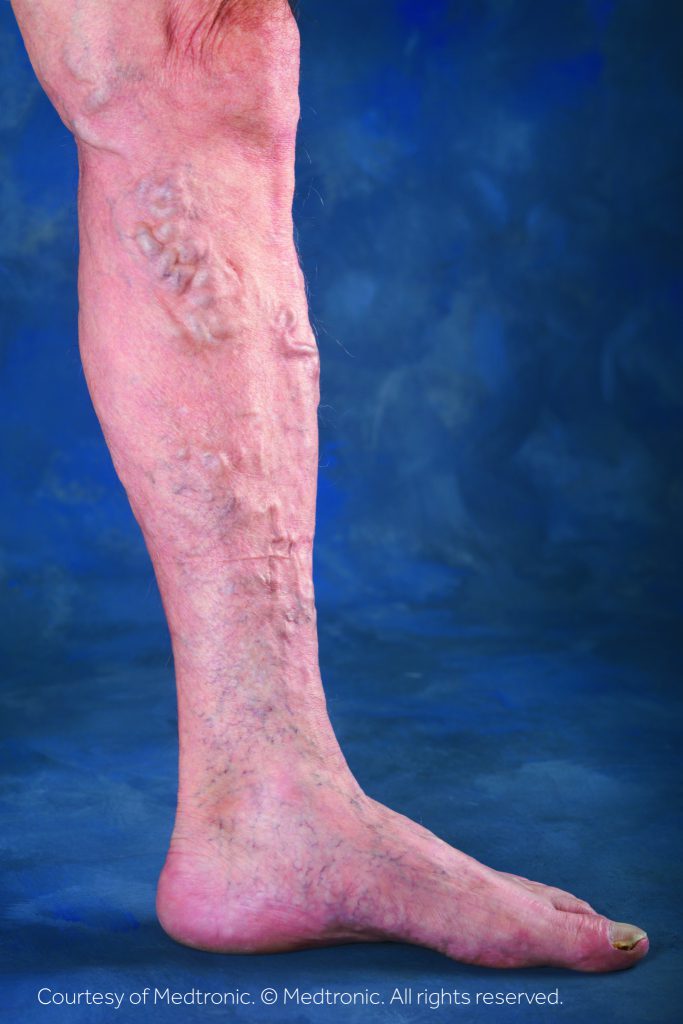 What are Varicose Veins? What Causes Them?
Varicose veins, also known as varicosities, occur when your veins become enlarged and dilated. Poor blood circulation makes veins appear as gnarled, twisted, and bulging, most commonly purple or blue in color. Varicose veins are often secondary to venous reflux of the saphenous veins in the leg.
Varicose veins can be painful, tender to touch, and appear swollen or raised on the surface of the skin. They can cause serious leg pain and other leg-related symptoms including swelling, itching, cramps, and even blood clots due to varicose veins (deep vein thrombosis or DVT).
A bleeding varicosity is cause for immediate consultation/evaluation to discuss treatment options.
Risk Factors of Varicose Veins
Before deciding to seek treatment, it is crucial to understand the nature of the disease and the underlying risk factors.
Patients with the following health conditions may be at increased risk for developing varicose veins:
Family history of venous disease
Gender (more common in females)
Obesity
Occupation requiring prolonged sitting or standing
Pregnancy
Pulmonary hypertension
Varicose Veins Treatment
At Heart of Dixie Vein and Vascular Center, we offer several options for varicose vein treatment or varicose vein removal that are less invasive and less painful than other treatments. Our mission is to provide our patients with the latest technologies and advances in varicose veins treatment so that they can get back to living the life they love sooner.
Laser Treatment for Varicose Veins vs. Less-Invasive Treatments
Many vein clinics and centers offer laser treatment for varicose veins. But we at Heart of Dixie have found that this painful and uncomfortable laser treatment for varicose veins doesn't always prove as effective for removing varicose veins as other treatment options.
Our vein centers in St. George and other southern Utah locations provide patients with more treatment options and a holistic approach to treat varicose veins at the underlying source. We work to diagnose and treat risk factors that make varicose veins to reappear.
Varicose Vein Removal
Several varicose veins treatments are available that can remove or close painful varicose veins.
Two such treatments available at Heart of Dixie in St. George, UT are radiofrequency ablation (ClosureFast) or non-tumescent non-thermal ablation (VenaSeal). After treatment of the saphenous veins via either of these procedures, most varicosities tend to flatten out and are not as visible as they were prior to treatment.
In some cases, these varicose veins are fed by other branches of veins and need to be treated individually. Heart of Dixie Vein and Vascular Center can treat these varicosities in our office with a minor procedure known as phlebectomy. Phlebectomy is varicose vein removal through tiny incisions on the leg. No stitches are necessary. This procedure is minimally invasive, leaving no scarring and uses local anesthetic only.
Varicose Veins Blood Clots
Varicose veins, while painful and unappealing, do not always pose immediate health hazards. However, thrombosed varicose veins or blood clots due to varicose veins can be a cause for concern. If these blood clots reach a patient's lungs it can be fatal.
The longer you wait to receive varicose veins treatment, the more likely it becomes for blood clots in varicose veins to form, especially if you have other deep vein thrombosis (DVT) risk factors. Help prevent against varicose vein thrombosis and further health complications with our varicose vein removal treatment in St. George and southern Utah.
Varicose Veins Treatment Cost
Varicose veins treatment cost and insurance coverage can be discussed with the Heart of Dixie Vein and Vascular team in St. George. We're here to answer any questions and provide you with the varicose veins treatment you need for healing, relief, and renewal of life.
Heart of Dixie Vein Center offers varicose vein treatment in St. George, Cedar City, Kanab, UT, and Mesquite, NV. Have further questions regarding varicose veins treatment and whether it's right for you? Contact us today!