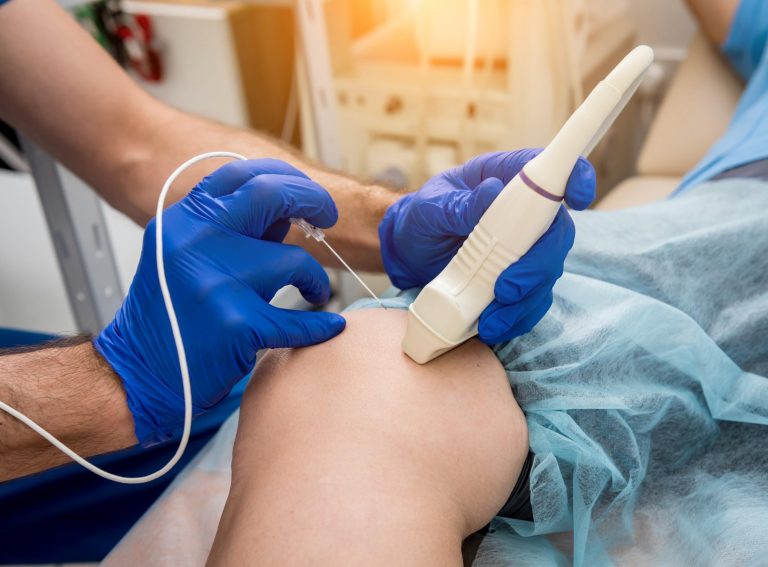 Radiofrequency ablation is an ultrasound-guided, minimally invasive treatment option for superficial venous reflux. A thin catheter is inserted into the vein through a small opening. Using radiofrequency energy, the catheter disrupts the tissues of the vein wall as it heats and seals the vein shut. This is an in-office procedure done in 30–60 minutes with local anesthetic only and no downtime after the procedure. Our patients can walk right out of our vein clinic with no need for a recovery period.
Studies have shown that those treated with radiofrequency ablation experienced less leg pain, less bruising, and fewer complications, resulting in a faster and less painful recovery than those treated with laser ablation or with other older vein treatment techniques. Our patients will quickly notice not only an increased quality of life but a better overall improvement in appearance.
For these reasons, we provide radiofrequency ablation in addition to VenaSeal as our treatment of choice for closing saphenous veins. Radiofrequency ablation is covered by insurance once all requirements are met. You can discuss individual insurance requirements with the Heart of Dixie Vein and Vascular team.
Whatever procedure our team suggests, rest assured that our staff will take care of you and give you the comfort and painless treatment you need. With radiofrequency ablation, your recovery time will surprise you, giving you pain relief in less time than more traditional methods.
"Everyone at the Heart of Dixie has been absolutely wonderful! The doctor, PA, techs, and all of the staff were amazing, prompt, and with great attitudes and professionalism. I had to have the venous ablation treatment and everything from the prep before the procedures to the expertise during was greatly appreciated!"