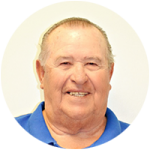 Before my procedures with Dr. Jones, I wasn't able to walk. I couldn't exercise so therefore I was unable to lose weight. I was told by my Dr. that I wouldn't live for more than 6 months. I came to my appointments with Dr. Jones for my treatments in a wheel chair for my first two procedures. The third treatment I used a cane, the fourth treatment I didn't use anything. To me that was nothing shy of amazing. Prior to my treatments my legs would just collapse. I didn't have much feeling in my legs. My legs were very swollen in my ankles and calves and that has now improved tremendously. My legs haven't swollen up at all in, I'd say, at least a good month if at all. Just look at me now!
My quality of life is a night and day difference. I couldn't travel to see my kids, I had a hard time even driving to Mesquite, and now I am able to travel to as far as Albuquerque, Texas and they don't bother me at all. I enjoy being able to go on a drive and go on vacations. Prior to my ablations I was unable to sit for more than an hour without having to walk to get the blood flowing back in my legs. I am now able to go about 8 hours without needing to get out of the car and walk.
The biggest difference I have seen physically, is I can walk now. This has opened the door for so many physical activities that I wasn't able to do before. I can swim. I now swim anywhere from 1-2 hours at least five times a week! Whereas before I had an extremely hard time just walking to my pool to swim. I had to stop many times just to take a break. Now, I can walk straight to the pool, no breaks! My ability to walk and swim has allowed me to lose weight which has affected my overall health. I have lost 28lbs in the last 5-6 months since being treated.
I would most definitely tell anyone who can relate to my story to go see Dr. Jones. Don't hesitate, give it a shot. You'll never know until you give it a try. Seeing Dr. Jones and getting treatments truly saved my life. I would recommend Dr. Jones and his vein team in a New York minute. He and his staff are top shelf in all they do!
–
Manny Bustamante