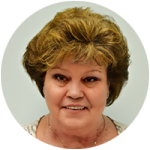 Before my ablations with Dr. Jones, the swelling in my legs was awful. I could hardly walk. I walked with so much difficulty because my legs felt so heavy. Since treatment, the swelling has gone down immensely and I am able to ambulate much better. Having the ablations done on my legs has greatly improved my quality of life. I didn't have one before. It's wonderful to get that back. Now, I am able to be more physically active. I am able to get around better at home and at work. I can walk through the grocery store without taking the electric cart anymore. To be able to walk and exercise and lose weight is important to me, and that was something I was not able to do prior to treatment to my legs. There is less stress in life if there is less pain.
I would definitely refer anyone who may be experiencing the same symptoms I was having, to Heart of Dixie Vein and Vascular Center. Dr. Jones, his nurse Marissa and the rest of the staff are wonderful. I would give them 100 stars!
The one thing I can say about my experience with Dr. Jones and his team was that I was given sincere care that was specific to my needs. More than I could have ever expected. Dr. Jones treated my husband just as wonderfully. He was all about getting me taken care of from the get go. I was with my husband at his cardiac appointment when we noticed a brochure that listed all the many symptoms that I was then experiencing with my legs. We pointed it out to Dr. Jones and asked him many questions and he answered all of them and wanted to do all that he could to help me, and he has. I would recommend him to EVERYBODY! I am so pleased with the results to my legs I would rate it a 10/10. A HIGH 10. I have nothing but great things to say about Dr. Jones and his excellent team.
–
Grayce Hopkins
–
Marilyn Gruenig